Record Manager is a program to manage records and/or any other sound carrier. The program allows the management of singles, long playing record (LP), CDs, MCs and other sound carriers.
The adding of new titles is very easy and it is designed to add great masses of titles in short time. Depends only in how fast you can type
. Especially the adding of LPs was designed to be very fast and easy.
Since version 0.8 you can add an audio CD completely automatic. Precondition is, that an audio CD is in your local CD drive and that there exists a CDDB entry on one of the remote servers. As it was possible before, there can be a local CDDB file also. In this case the local file is prefered.
What is currently possible with Record Manager?
There is a table to manage singles (old records containing only one song per side). The table contains fields for song title (A and B side), singer/group and date of press. Additional you can enter a copyright notice and the price you've paid for it.
There are two tables for storing all other sound carriers where one depends on the other (master, child). The master table contains the record title, the type and the date of press. The child table contains the cuts. The table holds the song title, singer/group and time to play in minutes and seconds. There is no limit of cuts per LP. Therefore you can use this program also to manage big MP3 archives.
Since version 0.8 you can also add a wish list. This list works similar to the singles list.
You can print separate lists of singles and LPs. With the option dialog you can choose how to print them. You can choose between printing directly to printer, printing to a file, or put the data in a file using a format that allows to use the data in a spreadsheet program, for example.
Since version 0.8 full CDDB support is integrated. If a CD can't be found in the local CDDB database, the program looks at the Internet to get the CD. As far as you're online and the CD exists on the Internet you've not to type it in.
Currently freedb.freedb.org is supported. This is a free CDDB server (GPL) on the Internet. All other CDDB server who supports the same interface, are also supported.
Record Manager is able to send self typed CDs to freebd.freedb.org via mail. freedb.freedb.org is the default target after you've installed the program. But there can be used any mail address you want.
All texts visible on screen are in a resource files. The resource files are plain text. So you can edit the files for example to translate it into another language.
Currently the languages english and german are supported. I appreciate a translation into any other language. I hope that someone is willing to do this.
TODO list:
Translating into other languages like France (somewhere willing to do this?).
Self made functions for reading an audio CD. This should make the library libcdaudio obsolete.
Creating an expert modus.
Adding support for SAP database. The now free SAP-DB should be supported instead of INFORMIX.
The widget set QT and KDE2 should be used instead of Motif.
How Record Manager looks like?
This picture shows the main menu of the Program immediately after startup.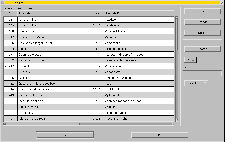 This picture shows the search for singles.
This picture shows the search for sound carriers.
What do you need to make use of the program?
Record Manager uses several tools. The heart of the program is a database. Currently PostgreSQL or INFORMIX is used. You can choose what database you want when you compile the program. The used widget set is Motif together with Xmt. The program was successfuly compiled against Lesstif 0.88.x.
To compile Record Manager yourself, you need the following libraries installed on your system:
PostgreSQL 7.0.2 (or later) [DOWNLOAD]
Informix SE 7.24 or Informix Online 7.24 [INFO]
Motif 1.2 or any later up to 2.1 [DOWNLOAD] or Lesstif [DOWNLOAD]
Xmt 2.1.3 [DOWNLOAD] Attention, it's Shareware!
Xbae 6.2 (or later) [DOWNLOAD] This is freeware and integrated into Lesstif
libcdaudio 0.99.4 (or later) [DOWNLOAD]
Where do you get record management?
You can download the Source code from the following links:
---
Description of Program: Record Manager

The following two links points to the Users Manual of Record Manager. Unfortunatly this manual is currently only in German language available :-(. Anyone to translate it into English?
Users Manual in DVI-format, German edition
Users Manual in Postscript format, German edition